Chichester family lawyer wins prestigious national award
11 July 2018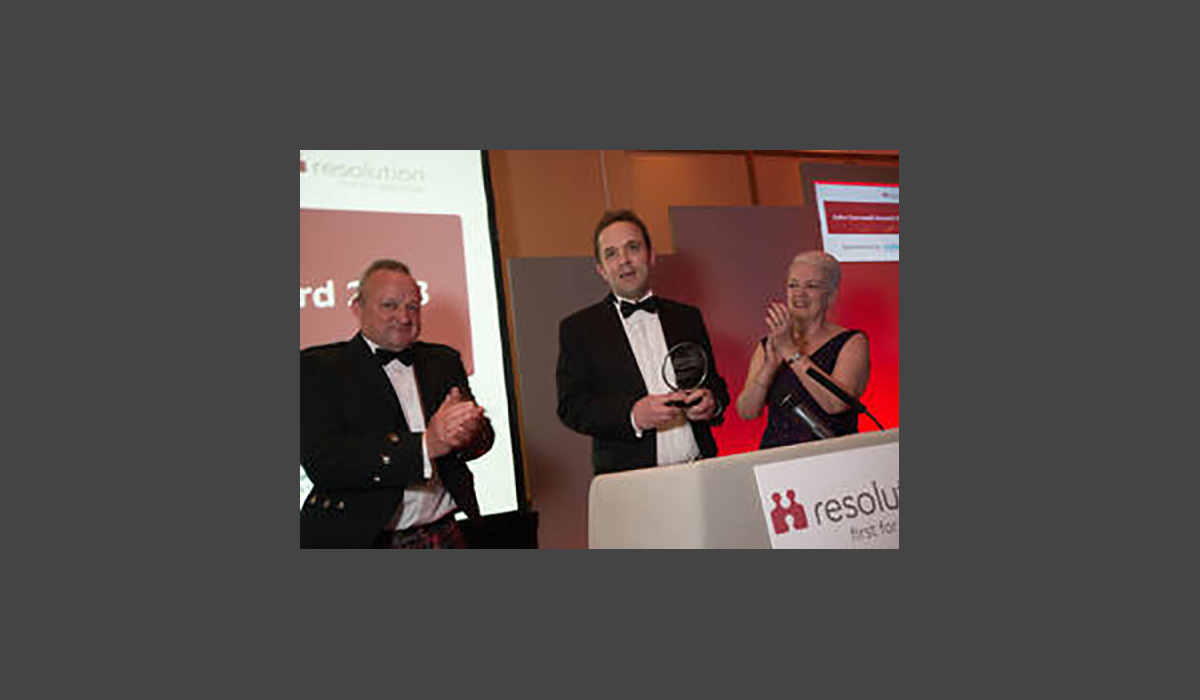 A Chichester family lawyer and mediator has won national recognition for his work to protect access to family justice in the West Sussex area.
Edward Cooke, director of specialist family law practice Edward Cooke Family Law and Edward Cooke Family Mediation, has been voted by his peers for a national award from Resolution, the nationwide organisation of over 6,500 family law professionals.
Edward was presented with the John Cornwell Award at Resolution's 30th National Conference in Bristol.
Named after the organisation's founder, the award recognises a Resolution member who has gone above and beyond in his or her commitment to Resolution's Code of Practice, to resolve issues in a non-confrontational manner and keep the interests of any children at heart.
Edward received the 2018 award for his work to protect access to family justice in the West Sussex area.
Following the announcement in July 2015 that the Chichester Combined Court would close, he has led a campaign to retain court provision in the Chichester area.
Through the campaign, he obtained assurances from the government that alternative court provision would be retained in Chichester, whilst at the same time keeping the existing court open.
The Chichester Combined Court had been due to close down in March 2017; however, the government was forced to back down in its plans to close the court without putting in place alternative provision following a threat of judicial review made by Edward, on behalf of the West Sussex branch of Resolution.
In his acceptance speed, Edward said: "I suppose the reason I'm up here is because I'm an ordinary Resolution member - a Resolution foot soldier - doing my day to day work.
"Our local court was set to close three years ago.
"All 61 members of West Sussex Resolution decided to take on the Ministry of Justice and we've kept the court open. We know it's going to close at some point but we now believe we will get some alternative provision.
"It's a David and Goliath story - and it's really what Resolution is about as an organisation. We represent the underdogs in society, the people who are dispossessed."

"I'm tremendously proud to get this award and I'm tremendously proud of this organisation. I want to thank National Committee and to all Resolution members who go the extra mile to fight for what we believe in. Let's continue the fantastic work we do!"
National Chair of Resolution Margaret Heathcote said: "Edward's commitment to protecting access to justice is truly inspirational.
"Whilst we agree the court service needs to be modernised, simply closing down buildings is not the answer. Maintaining access to justice has to be the first objective of any government plans.
"As courts continue to close, Resolution has serious concerns about any potential loss of a disproportionate amount of accessible, face-to-face services which help people resolve family disputes. That's why we're proud and lucky to have Resolution members like Edward taking bold steps to preserve such a crucial part of our justice system."
For more, see http://www.resolution.org.uk/news-list.asp?page_id=228&page=1&n_id=370