Edward Cooke assesses the proposed child reforms put forward by President of the Family Division, Sir Andrew McFarlane.
18 December 2019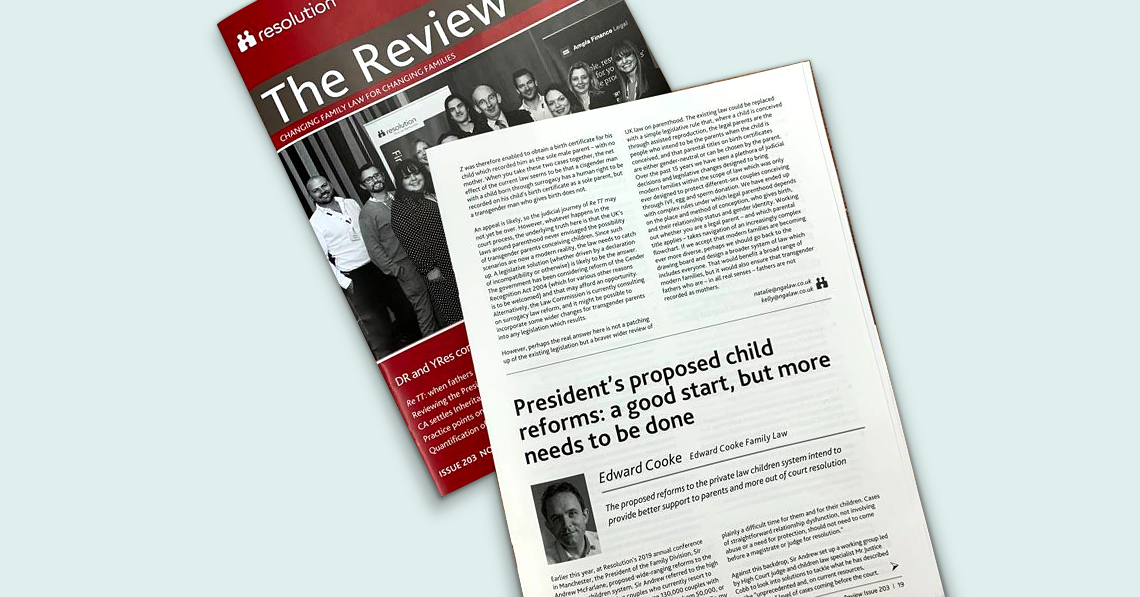 In a feature published in the November/December issue of 'The Review', the flagship publication of family law organisation Resolution, Edward Cooke, family solicitor, mediator and director of Edward Cooke Family Law, assessed the wide-ranging reforms to the private law children system proposed by President of the Family Division, Sir Andrew McFarlane.
Edward outlined in the feature that the President's proposed child reforms are a good start, but the proof will be in the pudding. He went on to say that the proposed reforms intend to provide better support to parents and more out of court resolution, but more needs to be done.
Edward's feature analysed Sir Andrew's proposals to find a better way to assist the 130,000 couples with dependent children who separate each year in the UK.
Edward examined the initial recommendations by a working group set up by Sir Andrew and led by High Court judge and children law specialist Mr Justice Cobb to tackle 'the unprecedented and, on current resources, unsustainable' level of cases coming before the court.
Among other observations, Edward noted the need for better enforcement and funding for the existing system (particularly around the existing mediation protocol) so that many more people are signposted towards mediation and parenting support services, rather than an adversarial court process.
He also raised the issue of what he called the current 'postcode lottery' in terms of parenting advice. Edward suggested the need to establish a national federation or umbrella organisation representing parenting support and advice agencies to spread consistent parenting support services across the country.
Edward said one of the main focuses of Resolution's Parenting after Parting Committee, of which he is the national committee representative, is to encourage lawyers to make parents aware of the benefits of attending a SPIP (Separated Parents Information Programmes).
To that end, the committee is rolling out training, which is available for all Resolution members on early help for separating parents.