Edward Cooke Family Law marks first birthday
01 July 2019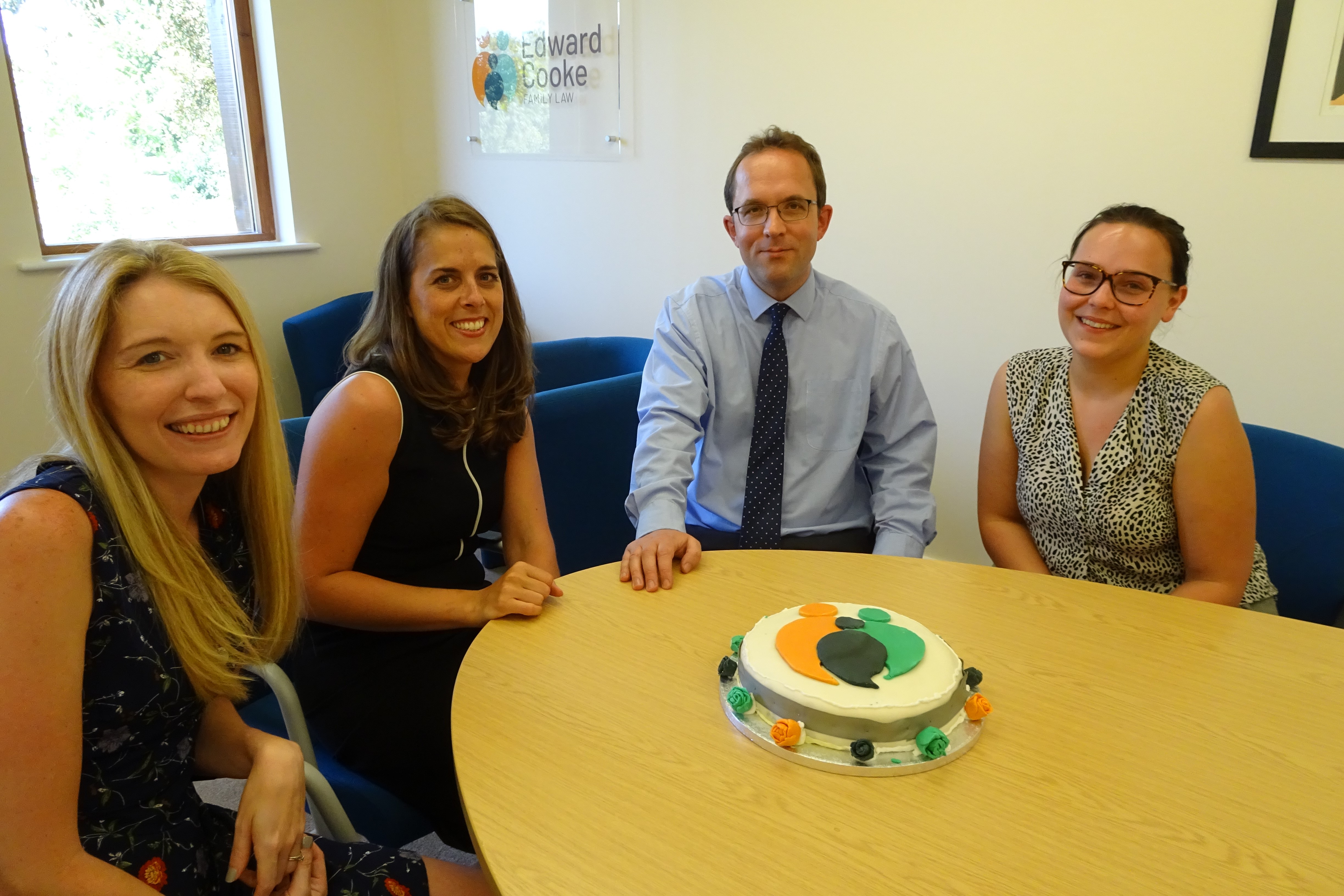 Lisa, MIchelle, Edward and Daisy with first anniversary cake
To mark a year in business on 25 June 2019, I asked my 15 year old daughter to bake a cake. I gave her a blank canvas but said that she might want to try a legal-themed cake, as on some of my birthdays in recent years she has baked cakes based on various themes including a cricket ball, a scrabble board and a Trivial Pursuit set (to reflect some of the things I enjoy in my family time).
I was very impressed with her efforts, as she decided to bake a cake decorated in the style and colours of our Edward Cooke Family Law logo. I reckon that even Paul Hollywood might have found something to praise in her offering!
It has been an exciting first year, setting up a specialist family law practice and I am very grateful first and foremost to my immediate team, namely Michelle, Daisy and Lisa (pictured). Behind the scenes, however, many others have helped, including IT, accounts, marketing and many other contractors. Thank you to all those who have helped the firm thrive and grow in its first year. 
My vision was to set up a different type of family law firm - not just a specialist firm but one with a child-focussed approach, striving always to offer people better, less adversarial ways of resolving family law disputes.
Separation and divorce is a reality for some families, however the way in which a divorce is handled by parties and their lawyers can have a huge impact, not only on the couple involved, and of course their children, but also the wider family.
Whilst in some cases it is necessary to resolve matters through the court (and we do represent clients in court when court proceedings are required), most cases do not in our experience need court involvement. Where possible we help people to resolve issues through out-of court solutions such as family mediation and collaborative law. So far we have assisted over 150 people in our first year of business.
Edward Cooke