Edward Cooke Family Law celebrates its third birthday
24 June 2021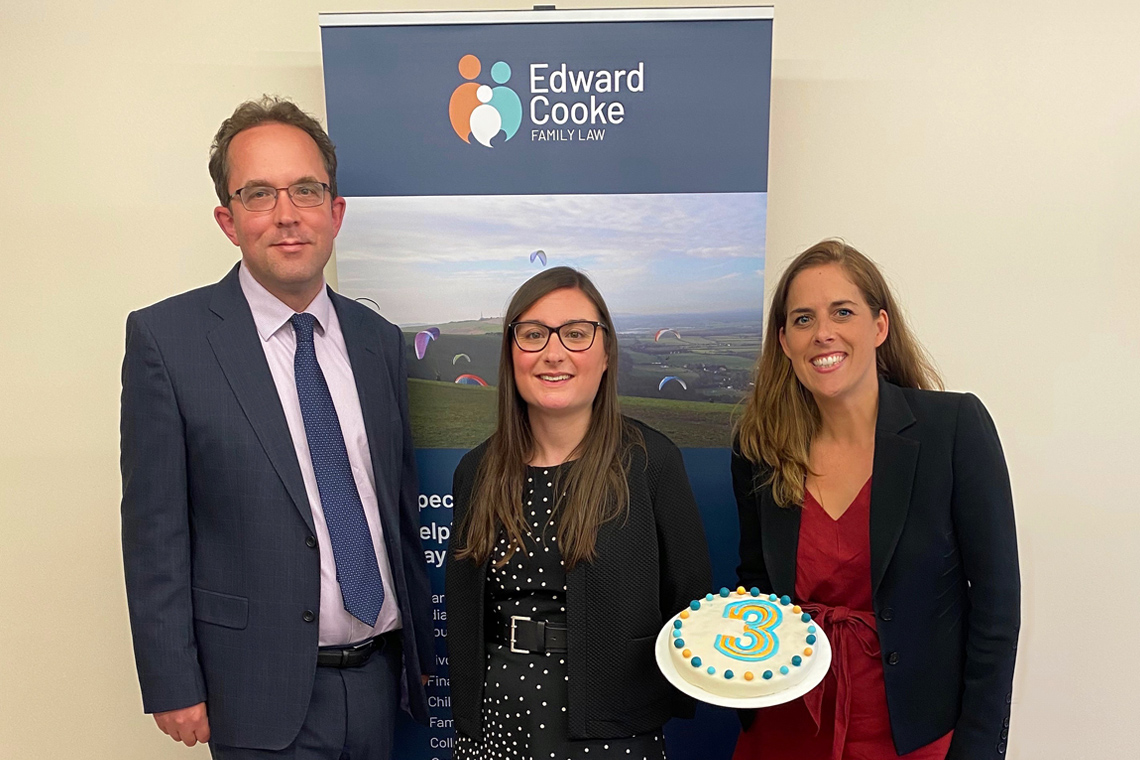 The Directors, freshly Covid tested, posed for a few seconds for this photo, but our actual celebration took place outside the office in the open air – safety first of course
The team at Edward Cooke Family Law were pleased to start this week on a high, celebrating the third birthday of the firm.
Gathering in the Chilgrove office, where it all started, the team took a well-deserved break at lunchtime to raise a glass and enjoy a piece of cake, baked by Edward's daughter.
Reflecting on the development and growth of the firm over its first three years, Edward Cooke commented,
"It was a very proud moment gathering today, taking a break from our busy days to celebrate the firm's third birthday. From our first days in this office in Chilgrove, on the outskirts of Chichester, with just myself and my secretary, Daisy, we have grown to a team of nine, across two offices, here in Chilgrove and in Brighton. We also offer meetings from bases in Petersfield and Central Chichester. 
Our team boasts three Directors now, with Michelle Lewis and Lauren Guy joining me in helping to steer the future direction of the firm. My vision when establishing my own firm in 2018 was to create a modern family law firm, employing a child-focussed approach and a commitment to less adversarial ways of resolving family law disputes. That philosophy still sits at the heart of what we do.
Our ongoing commitment to this approach is reflected in the firm being led by three qualified collaborative lawyers and mediators, which really sets us apart from traditional approaches to family law.
I would like to thank our team for the remarkable work they do and for being part of the early days of the firm. We are a close-knit team and there is a lovely sense of collaboration and support between us.
As we look to the future, we hope to build on the success and growth we have achieved in the last three years, continuing to grow our team and to evolve our practices to provide the very best for our clients, cementing our reputation as a leading niche family law firm on the South Coast."
To learn more about the philosophy of the firm, read our blog on what sets us apart as a specialist divorce and family law firm.