Therapeutic support for family law practices - a conversation between a lawyer and a therapist
16 August 2021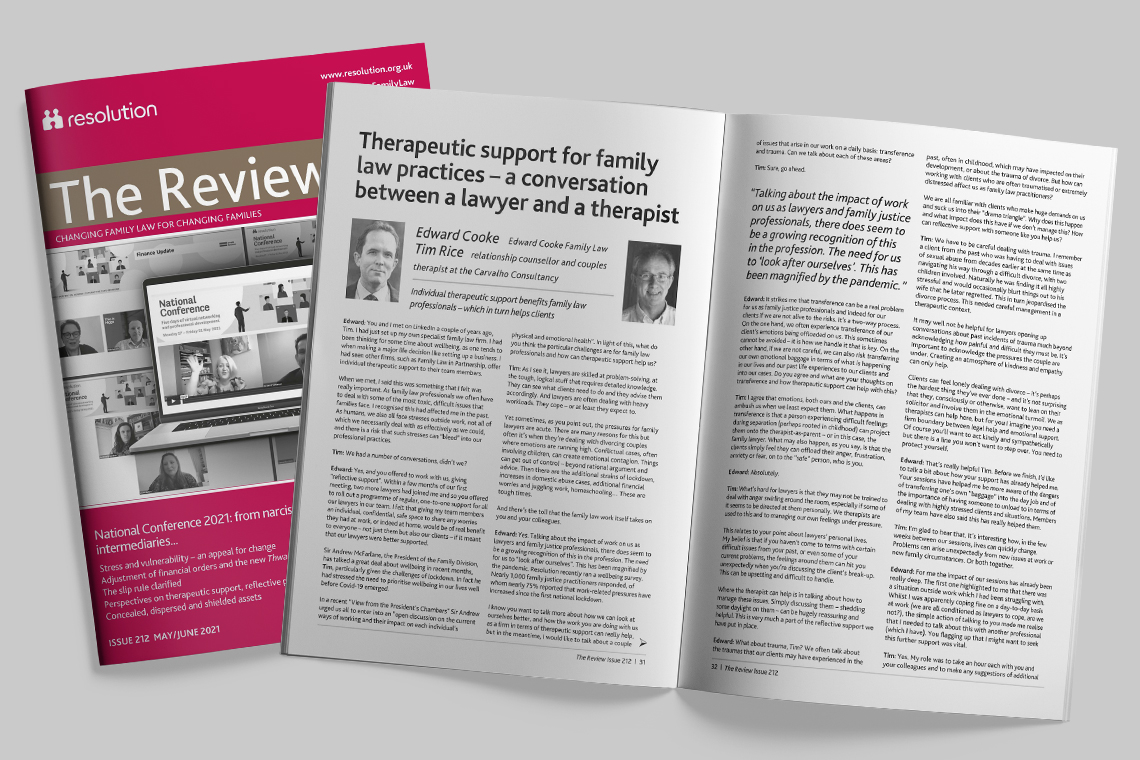 Resolution - The Review - Issue 212 - May/June 2021
Founder and Managing Director Edward Cooke and relationship counsellor and couples therapist Tim Rice, based at The Carvalho Consultancy, joined forces to contribute to Resolution's 'The Review' July issue on the subject of therapeutic support for family law professionals.
Sharing their individual perspectives on therapeutic support for family law professionals, Edward and Tim explore the benefits not only for family law professionals but also, in turn, for their clients.
Edward shares his philosophy of embedding therapeutic support within Edward Cooke Family Law from its earliest days, ensuring time is taken for everyone to focus on their own wellbeing. As the firm has grown, so too has the support which Tim has provided, so that all lawyers at the practice benefit from a programme of regular, one-to-one, confidential sessions, where they are able to explore any issues impacting them.
Tim reflects on his experience in helping individuals to look after themselves better, sharing the benefits of having time to decompress from the emotional contagion that life can bring, especially with the additional pressures that the Covid-19 pandemic has brought to so many.
Tim and Edward also specifically explore two issues that arise in family law professionals' work on a daily basis: transference and trauma, and how reflective support can help.  
Read the full article here.