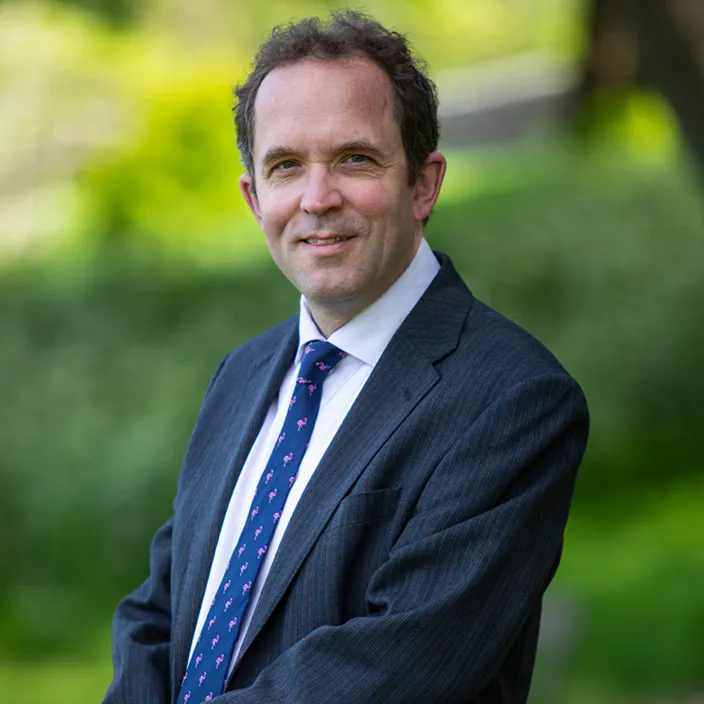 Edward Cooke
Managing Director, Family Solicitor, Mediator and Collaborative Lawyer
Contact
Email: edward@ecfamilylaw.co.uk
Phone: 01243 769001
Edward Cooke
Managing Director, Family Solicitor, Mediator and Collaborative Lawyer
Edward Cooke is a specialist family lawyer, an accredited mediator and a collaborative lawyer. 
Edward has a national reputation as a family lawyer, mediator and campaigner on family justice issues. In 2018, he won the prestigious John Cornwell award, a national award given by Resolution, the nationwide organisation of family law professionals for his outstanding work in supporting separating families.
From 2017 to 2023, he served as a Director and National Committee member at Resolution, and from 2020 to 2023, he was Chair of Resolution's Training and Learning Committee - a key strategic committee in the organisation responsible for strategy and development of training for family law professionals across the country. During his time in office, he spearheaded the development of Resolution's Diploma Training programme, which was launched at the 2023 Resolution National Conference.
Career history
After obtaining a degree in History at Bristol University, Edward attained his Post Graduate Legal Practice Course at the College of Law in London.
Having started his legal career at leading London Magic Circle firm Slaughter and May, he decided instead to specialise in family law. After working for 18 years as a family lawyer in West Sussex and Hampshire, he founded Edward Cooke Family Law in 2018.
Building on previous recognition, Edward Cooke was again ranked as a Recommended Lawyer in The Legal 500, 2024 along with his fellow Directors, Michelle Lewis and Lauren Guy and Associate Solicitor Victoria Maxwell, and the firm was again ranked as a leading firm. The firm was also recognised in Chambers & Partners 2024, with Edward Cooke ranked in band 1 of Family Lawyers in the South as well as in the mediation (ADR) rankings.
Areas of work
Edward's work as a family law solicitor encompasses all areas of family law, including divorce, financial issues, children work and cases involving unmarried couples and civil partners. Edward is also specially trained in our Consensus approach, helping couples approach separation in a collaborative way, using one lawyer. 
He has built a reputation as a leading specialist in the area. He not only has wide experience in dealing with the full range of family cases, but also regularly handles complex court cases involving substantial assets, trusts, farms and family businesses.
He writes articles for leading legal publications, including "Family Law" and Resolution's "Review" magazine, and has been involved in a number of reported cases.
Edward believes firmly in the benefits of non-court resolution. He is an experienced and accredited family law mediator and collaborative lawyer and is also qualified to meet with children in the mediation process.
Regardless of whether he represents clients in court, through the collaborative process or in mediation, he always seeks to find solutions which are constructive, child-focused and fair.
Professional background
Edward was a founder member of the West Sussex branch of Resolution and has sat on its regional committee since it was established in 2002. Edward was a Director and National Committee member at Resolution for 6 years, from 2017 to 2023.
Edward is a member of the Law Society Family Law panel.
Edward is a former President of the Chichester and District Law Society.
Edward is a member of the Three Counties Family Law Group and the Chichester and South Downs Collaborative Pod, groups of collaborative family law professionals.
Awards
In March 2018, Edward was awarded a Chichester City Council Civic Award for services to the city of Chichester and, specifically, for his 'outstanding contribution' to the city in leading a campaign to keep court provision in Chichester.
As a result of this campaign, the government suspended the closure of the Chichester Combined Court until alternative court provision was opened in the city at East Pallant House in January 2019, sitting on a number of days each month. East Pallant House subsequently became the country's first "Nightingale court" in July 2020, sitting full time during the Covid-19 pandemic.
In April 2018, Edward was presented with the John Cornwell Award by Resolution, the family justice organisation.
Named after Resolution's founder, the John Cornwell Award recognises a Resolution member who has gone above and beyond in his or her commitment to Resolution's Code of Practice, to resolve issues in a non-confrontational manner and keep the interests of any children at heart.
Edward and the firm have been shortlisted for a number of national awards, including:
Family Law Partner of the Year at the Family Law Awards (2023)
Resolution's Children's Champion Award (2023)
National Mediation Awards Child Inclusive Mediator of the Year Award (2022)
Family Law Partner and Family Law Firm of the Year at the Family Law Awards (2022) 
Client Feedback
"I was extremely pleased with the effectiveness of your service and the way in which Edward was able to seamlessly manage my case to a successful conclusion."

"I cannot thank you enough Edward for all your hard work. I am so glad that I got in touch with you. I could not have completed this journey without you."
"Thank you so much for your time, patience and tolerance, Edward. I found your mediation to be extremely helpful, and your documentation for the basis of the financial settlement for the dissolution of our marriage reasonable, fair and equitable."
Legal 500 2024
"Edward Cooke has incredible emotional intelligence, which combined with his legal expertise and pragmatism on difficult cases, make him stand head and shoulders above others in his area."
"The firm has a strong reputation for doing high quality work and providing a good service for family law clients, which stems primarily from Edward Cooke, who is the driving force. They take a constructive approach to resolving family law matters in the interests of the parties."
"I think Edward's City background combined with his focus on local issues makes him a go-to solicitor mediator in his area. His firm and team are excellent and always put the client first in my experience."
"Edward has built up a cutting edge practice which has made heads turn on the south coast and beyond. He is quite unique in that he has built a solid reputation in London as well as locally, and I know several leading family lawyers in London who refer their mediation and conflict work to him.  He continues to build up the team, which has grown great strength in depth."
Chambers & Partners 2024
"He is committed and very dedicated to everything he does."
"Edward Cooke is an impressive hybrid mediator. He is considerate and measured and achieves great results."
"Edward's client service has been exceptionally good. It has been delivered professionally and with kindness. Edward's extraordinary level of technical knowledge and professional sophistication is immediately obvious in all dealings with him."
Legal 500 2023
"Edward Cooke has become a name associated with excellence in a very short period of time since its founding. There is a dedication to the client and a professionalism with the service offered that is unmatched in the area."
"Strong team in this family boutique firm that goes from strength to strength under the calm and capable Edward Cooke."
"The thing I particularly like about Edward Cooke is that he really listened and understood what I wanted. He gave me really good advice, explained everything clearly and patiently to me. He gave me excellent advice and whilst he guided me in what approach to take, he also respected my views and what I did or did not want to do. We worked together to decide what approach to take in my divorce negotiations."
"He has a real calm, reassuring style and clients really like having him in their camp."
"He is known for high-quality work. Edward is the nicest and most down-to-earth person, but tenacious, driven and passionate about family law."
Outside work
Edward grew up in Chichester. He enjoys all types of music, walking his golden retriever, running and spending time with his family.