Edward Cooke Family Law publishes Good Divorce Guide
04 January 2021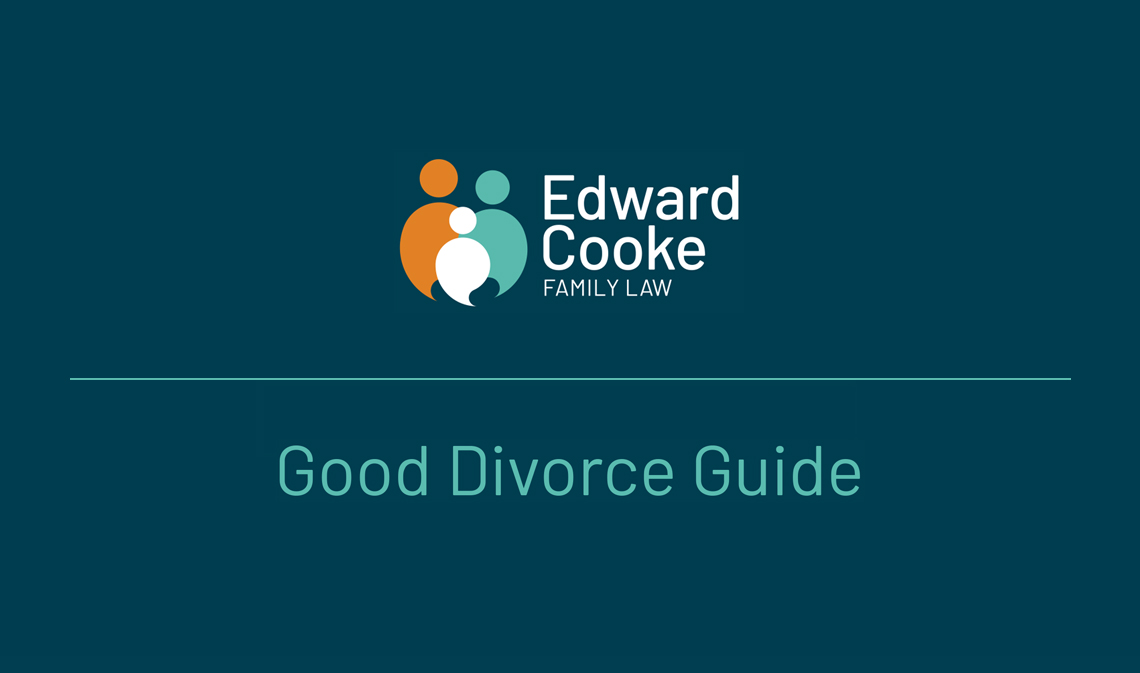 An online guide to achieving a 'good divorce' is being published today by Edward Cooke Family Law, a specialist Sussex law firm headed by solicitor Edward Cooke, who sits on the national committee of Resolution - a nationwide organisation of family lawyers that campaigns for non-confrontational approaches to divorce and separation.
The Good Divorce Guide
The Good Divorce Guide will be a welcome source of advice for couples considering separation.
The team at Edward Cooke Family Law have seen a significant increase in enquiries during the coronavirus pandemic. With a Head Office based just outside Chichester, the firm is opening a new second office in Brighton today.
"Covid has taken its toll on all of us in different ways and sadly it is contributing to divorce and separation for some," said Edward Cooke, who is a specialist in collaborative law - a process that involves lawyers and other professionals helping couples to resolve issues without going to court. "No matter what the cause of a split, it is possible to agree on financial issues and arrangements for children and to part amicably without a court battle."
"Whilst the degree of ongoing communication varies between couples, in my experience the vast majority should be able to achieve a Good Divorce and there's a growing appetite to support this across the legal profession. The key is to seek the right support and get early advice from a lawyer committed to a non-confrontational approach."
Welcoming specialist solicitor Lauren Guy at the new Brighton office
Edward and his team also have particular expertise in advising LGBT families - Director and head of the new Brighton office, Lauren Guy, is one of a small number of lawyers in the country who specialises in surrogacy, donor conception and fertility law.
Coupled with the fact that all three of the firm's directors have links with Brighton, the city was an obvious choice for a new second office as the firm expands this year.
"Lauren lives and works in Brighton and will be leading the Brighton office and our other Director, Michelle Lewis, and I also have our roots here. I was at school close to Brighton and spent my teenage years living just up the road in Worthing. Michelle also grew up here and went to Sussex University, so we all know and love the city," explained Edward.
How to have a good divorce
The Good Divorce Guide covers six areas of advice that can help separating couples to reduce conflict and costs, look after their family's emotional wellbeing and avoid having to go to court.
Find the right lawyer
It's vital to find a lawyer that is fully committed to exploring ways to resolve issues out of court when this is possible. A good starting point is the Resolution website which lists lawyers and firms across the country who have signed up to a non-confrontational divorce code of practice. www.resolution.org.uk
Get emotional support
Going through a divorce is widely acknowledged to be one of, if not the, most stressful life events we go through. A good divorce lawyer should be able to recommend counsellors and psychotherapists who specialise in helping people get through this period of change.
Find a way to co-parent co-operatively
Attending a SPIP (Separated Parents Information Programme) course can be a very constructive start. These courses are run by specialist trainers and are attended individually by separating parents. Your solicitor ought to be able to signpost you to a local course.
Try mediation
Mediation can be a great way to reach a swift and amicable agreement over issues related to children and finances. A mediator is a neutral person (often a family lawyer) who will meet with you and your ex and, over the course of a number of meetings, help you reach an agreement over all issues. Many mediators are qualified to meet with children and parents can really benefit from hearing how their children feel.
Or collaborative law
If you do not feel you can sit in a room with your ex-spouse without support, you could try collaborative law. This follows the same principles as the mediation process, but instead of the couple attending meetings with just a mediator, they can attend meetings with their own lawyers, both of whom are committed to helping the couple agree all issues out of court.
And if all of the above is not possible…
Clearly, not every couple can achieve ongoing co-operation and constructive agreement. However, when conflict is higher, it is still possible to achieve a 'better divorce' thanks to a number of processes developed in recent years, including:
·       Early Neutral Evaluation (ENE) or "Private FDR"
For more detail on these options download the Good Divorce Guide.