Widespread recognition of our firm and lawyers in Legal 500 2024
04 October 2023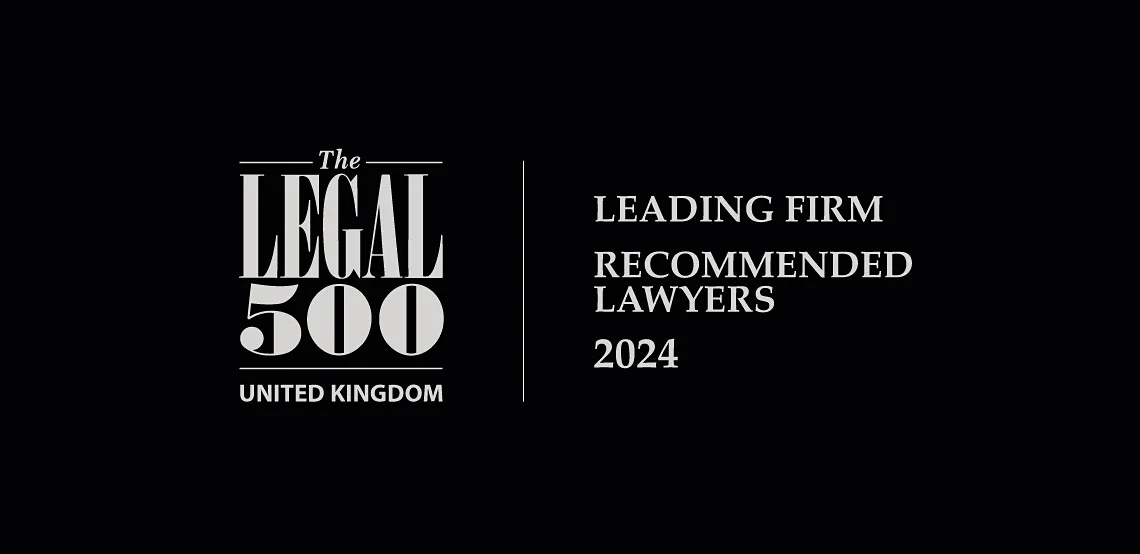 We are delighted to have once again been ranked in The Legal 500, as a Leading Firm for Family Law in Kent, Surrey and Sussex and, for managing director Edward Cooke and directors Michelle Lewis and Lauren Guy, as Recommended Lawyers. Associate Solicitor Victoria Maxwell, who joined us this year, is also named as a Recommended Lawyer.


The Legal 500 – Explained
For over 35 years, The Legal 500 has independently reviewed and analysed the capabilities of law firms across the world to compile the highly respected Legal 500 rankings, which enable clients to consider independent verification and validation of firms they may be considering, to make informed decisions about their strengths, capabilities and specialisms.
The list is compiled by a team of researchers who have unrivalled experience in the legal market, drawing on a variety of inputs, including client feedback and interviews with leading private practice lawyers, assessing firms against a series of criteria. 


The Legal 500 – Our Profile
It is a real source of pride to be recognised in The Legal 500 for a third year and for that recognition to extend to four of our lawyers individually, as well as the recognition of the firm as a whole.
As part of the process, The Legal 500 write a summary of the firm, which is included in full below but can also be seen on The Legal 500 website:
"Delivering specialist family law services from its offices in Chichester and Brighton, the team at Edward Cooke Family Law have recently assisted with mediations, arbitrations and provided advice on matters relating to assets, financial arrangements and children. Founder of the firm Edward Cooke is noted in the market for his mediation and collaborative law work and has extensive experience in handling high-net-worth financial remedy family litigation concerning pensions, trusts and business assets. Leading the Brighton office is surrogacy and fertility law specialist Lauren Guy, and Michelle Lewis covers a broad spectrum of matters including complex financial and children work."
Edward Cooke commented on the announcement of the Legal 500 2024 rankings:
'We are delighted to achieve this recognition once again in the Legal 500 in their 2024 rankings. Our team thoroughly deserve this accolade and I'm delighted that Michelle Lewis, Lauren Guy and Victoria Maxwell have all also been singled out as key lawyers, recognising their continued exemplary work in family law. We are incredibly proud of the comments received and how our firm is perceived by clients and professionals alike.'

The Legal 500 – Testimonials
We are thrilled with the positive comments shared with The Legal 500 during their research, from clients and professionals: 
'Edward Cooke has incredible emotional intelligence, which combined with his legal expertise and pragmatism on difficult cases, make him stand head and shoulders above others in his area.'

'The firm has a strong reputation for doing high-quality work and providing a good service for family law clients, which stems primarily from Edward Cooke, who is the driving force. They take a constructive approach to resolving family law matters in the interests of the parties.'

'Michelle Lewis and Lauren Guy are both very capable and approachable, practising family law exactly how it should be done - child and client-focused. I would trust this firm with my own friends and family members.'

'The practice is great with collaboration with other professionals, seeking to get the best results for their clients. They are a friendly, well-regarded firm.'

'Boutique South East family practice under the brilliant stewardship of its founder Edward Cooke and adding to its fee-earner count thereby adding depth and breadth.  Capable of handling some seriously big money cases with Trusts/Tax/Commercial complexities whilst looking after local and regional clients.'

'Capable, personable, ethical and highly regarded.'

'The firm has a strong reputation for doing high-quality work and providing a good service for family law clients.'

'I think Edward's City background combined with his focus on local issues makes him a go-to solicitor mediator in his area. His firm and team are excellent and always put the client first in my experience.'

'Edward has built up a cutting-edge practice which has made heads turn on the south coast and beyond. He is quite unique in that he has built a solid reputation in London as well as locally, and I know several leading family lawyers in London who refer their mediation and conflict work to him.  He continues to build up the team, which has grown great strength in depth.'